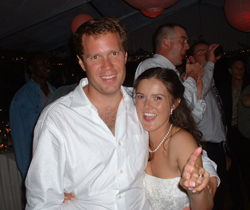 Dear Bob & Cindy,
We wanted to thank you for helping to make our wedding so joyful and fun. The music was perfect!!! Several of our guests are in the music industry and they were incredibly complimentary. One young woman from Los Angeles told me that the covers were so tight she kept forgetting we had a live band! It's hard to articulate why you stand alone as a wedding band, but I will try.
Besides your musical expertise, you also have a way of connecting with the audience without being intrusive. It was all about Anna and Matt and not about the Bob Charest Band.
You were playful and responsive and engaged. We cannot say enough!!!
Best to you both and the entire band.
Debra, Mother of the bride
...You made our reception come alive in a way we didn't even know was possible,
and our guests kept asking if we had flown you in special from NYC!
Your volume was ideal, your song choice was perfect, your sound unbelieveable.
We had no idea what a treasure we were getting when we chose you.
Thank you, thank you, thank you!
Jocelyn & Sunny
Everyone was raving about you guys. It was awesome! You guys totally rocked it!
Jessica Vachon
A lot of people came from overseas, and, since both the bride and groom work in New York,
assumed we brought you up from NYC - I loved telling them you were "native talent".
As the VISA ads say: Your performance helped make the day priceless!
Bob Swan, Father of the Bride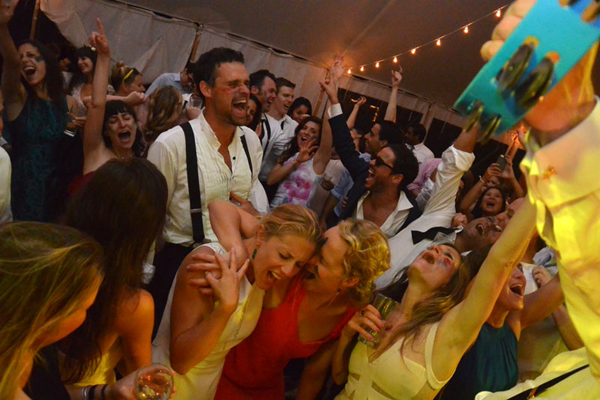 ...
I can't thank you enough for the best wedding a girl could ever have!!
Raves about you all have been nonstop. Your cover of "You Are The Best Thing" was just incredible.
I can't gush enough!

two days later…
I have to tell you - a complete stranger just stopped at my parents' house to find out the name
of the band that played at our wedding! They heard from a guest that
"you guys are the best."
Sarah Benedict
Hey Bob and Cindy!
I've been meaning to write you since Sunday the 24th.... regarding Brydon and Mike's wedding.
YOU TWO AND YOUR BAND ARE TOTALLY AND COMPLETELY AWESOME!!!!

And that's an understatement.
Starting from the meeting at your house, with yummy treats and drinks, to the final note on
Saturday night, everything you did and everything you played was top notch and right on the mark.
And I SO appreciated that you weren't too loud!! Your volume was just loud enough, your playlist was
everything that Brydon and Mike (and all of us) loved, your coordination within the band was totally
impressive, your collective talent and complimentary vocals quite simply "ROCKED" every last song,
and you drew everyone in.... everyone!
We could not have asked for anything better!!!
Ry Hills, Mother of the Bride






Bob Charest Band - A Review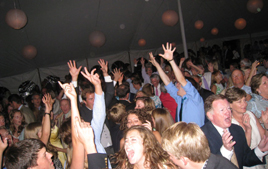 I am writing this review before I've even purchased "thank you" notes to mail out to my guests. Of course, I don't think our friends and family will feel slighted; I think everyone who attended our wedding at the Harraseeket Inn on October 3, 2009 will agree that the
Bob Charest Band simply "made" the event.
As much as our guests asked Seamus and me about, say, "how we met" or where we're spending our honeymoon, so many were curious how we found the talented and oh-so-energetic nine-person band. A friend of my father was sure we discovered them in Los Angeles (where my husband and I currently live and work).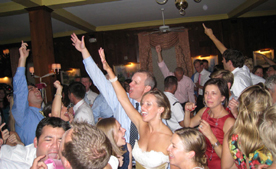 The truth is, we heard the band at another friend's wedding in Southern Maine thirteen months before our own nuptials - and a month before we were even engaged - and it might as well have been at the Troubadour in West Hollywood. Immediately, booking the band was a priority. Well, that and Seamus buying me an engagement ring.
From the moment we inquired about availability to the last number of the evening, Bob, Cindy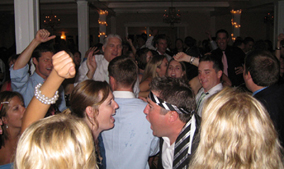 and the rest of the band were interested in making the evening about Seamus and me - getting to know us, our families, and our priorities. My parents requested a
Sam & Dave
number - mid-wedding - that the band probably hadn't played in years (if ever), and made it the last dance of the evening - subsequently making my parents' day. Bob Charest has a way of reading a crowd, and all of our guests - from the youngest cousins to our parents' friends - were dancing. I am sure Cindy has the photos to prove it.
Although the band was willing to learn any song for our first dance, we hoped to feature our brother-in-law, Dan, on guitar and vocals for this piece. Bob was beyond accommodating in this sense, and was in touch with Dan to organize and provide back-ups to the Jack Johnson number. Dan reported that this was the "best wedding band he had ever heard" and was honored to play beside them.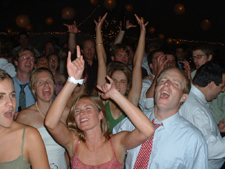 The group deserves as much praise for their communication and preparations leading up the performance as they do the performance itself. Their easy-to-navigate website is full of photographs, biographies, and music samples, as well as a "Check Availability" feature (I recommend working around Bob's schedule as you consider setting your date!) In addition, Cindy was quick to respond to email and phone inquiries and I so enjoyed getting to know her in our multiple conversations. Bob and Cindy also invited Seamus and me into their cozy home a few months prior to our wedding, and we discussed details for the event over snacks and wine. Weddings are personal, and the band's energy spent preparing for our event (and undoubtedly every other event) really helped make it even more so.
We truly can't thank Bob, Cindy, and the rest of the band enough!
A review by Gita Pulapilly
Aron and I were so fortunate to have a dream wedding in Maine. Every detail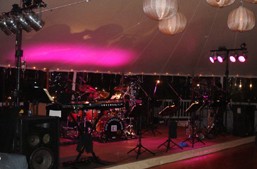 and every vendor was selected because of their high standards. REAL WEDDINGS MAINE worked with all of the vendors to make our day so special. Music is really important to us and we wanted to make sure the music at our wedding wasn't the typical cheesy wedding stuff but music we would really enjoy. As artists, we're pretty picky about our music.
Well...we were BLOWN away by the Bob Charest Band.
They are an extremely talented group that spent time in advance learning some of the music we liked and learned about us as a couple before they performed. The result--three generations and two very different cultures--Indian and American--came together on the dance floor because the music lured us on. For a top notch band full of class and delight--I highly recommend the Bob Charest Band.
Thank you for making our wedding so special!!
Gita Pullapilly, Film Producer, New York, New York